Crude Oil Prices – Weekly Outlook: November 20 – 24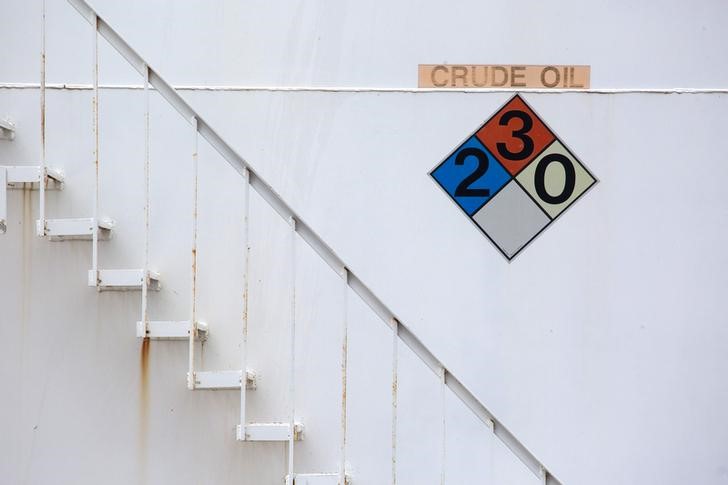 © Reuters. Oil prices suffer their first weekly loss in six
Investing.com – Crude oil prices jumped on Friday, but failed to offset their first weekly loss in six weeks as fears over rising U.S. output persisted, while falling expectations for an extension of OPEC-led output curbs weighed on sentiment.
U.S. West Texas Intermediate (WTI) rose $1.36, or around 2.5%, to end at $56.71 a barrel by close of trade, snapping a five-session losing streak.
Meanwhile, futures, the benchmark for oil prices outside the U.S., rallied $1.36, or roughly 2.2%, to settle at $62.72 a barrel.
For the week, WTI still suffered a 0.3% slump, while Brent lost about 1.3%, following gains in each of the previous five weeks.
Despite rising sharply on Friday, crude oil futures failed to pare losses made earlier in the week amid ongoing investor fears that rising U.S. output would dampen OPEC's efforts to rid the market of excess supplies.
Preliminary U.S. production figures released during the week showed weekly output increased by 25,000 barrels per day (bpd) to an all-time high of 9.65 million, while crude oil stockpiles rose for second week in a row.
Oilfield services firm Baker Hughes reported Friday that the number of active U.S. rigs drilling for oil . The weekly rig count is an important barometer for the drilling industry and serves as a proxy for domestic oil production.
The International Energy Agency said earlier in the week that the U.S. would account for 80% of the global increase in oil production over the next decade.
Meanwhile, growing concern that Russia was reluctant to support an extension of an existing OPEC-led production cut agreement further weighed.
Under the original terms of the deal, OPEC and 10 other non-OPEC countries led by Russia agreed to cut production by 1.8 million barrels a day (bpd) for six months. The agreement was extended in May of this year for a period of nine more months until March 2018 in a bid to reduce global oil inventories and support oil prices.
Discussions are continuing in the run-up to the Nov. 30 meeting, which oil ministers from OPEC and the participating non-OPEC countries will attend.
In other energy trading, tacked on 3.1 cents, or 1.8%, to end at $1.744 on Friday. It still closed down around 3.7% for the week, the first weekly loss in six weeks.
advanced 4.4 cents, or 2.3%, to $1.946 a gallon, marking a 0.6% weekly gain and booking its sixth weekly climb in a row.
climbed 4.4 cents, or almost 1.5%, to settle at $3.097 per million British thermal units, but still lost about 3.6% for the week. On Thursday, the Energy Information Administration reported the first weekly decline of the winter heating-fuel season for U.S. natural-gas supplies.
In the week ahead, trade volumes are expected to remain light around Thursday's Thanksgiving holiday and Friday's shortened trading session.
Market participants will eye fresh weekly information on U.S. stockpiles of crude and refined products on and to gauge the strength of demand in the world's largest oil consumer.
Ahead of the coming week, Investing.com has compiled a list of these and other significant events likely to affect the markets.
Tuesday, November 21
The American Petroleum Institute, an industry group, is to publish its weekly report on U.S. oil supplies.
Wednesday, November 22
The U.S. Energy Information Administration is to release weekly data on oil and gasoline stockpiles.
Later on, the U.S. government will also publish a weekly report on natural gas supplies in storage. It comes out one day ahead of its normal release time due to the Thanksgiving holiday.
Baker Hughes will release weekly data on the U.S. oil rig count, two days earlier than usual, also as a result of Thanksgiving.
Thursday, November 23
Financial markets in the U.S. are to remain closed for Thanksgiving.