Dollar dips after weak U.S. data, Turkish hike supports emerging currencies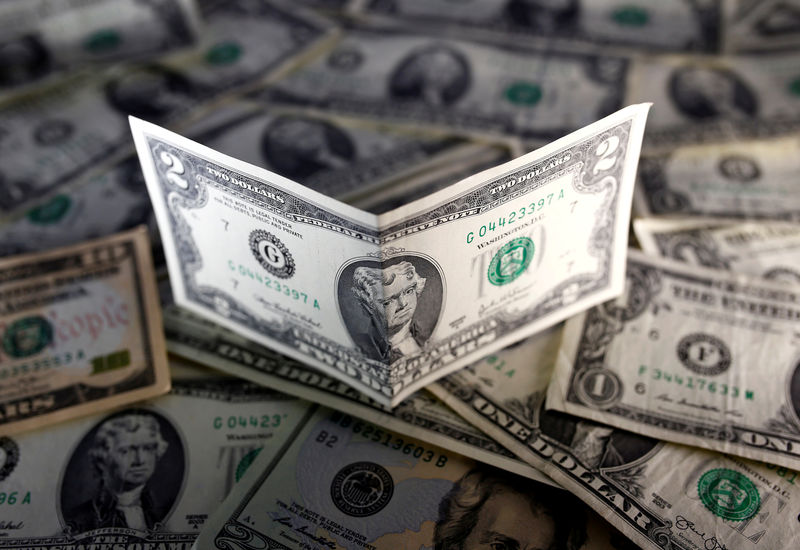 © Reuters. U.S. dollar notes are seen in this picture illustration
By Shinichi Saoshiro
TOKYO (Reuters) – The dollar dipped on Friday after weaker-than-expected U.S. inflation data, with the currency already sagging on signs of reduced trade tensions between the United States and China.
Emerging currencies, like the South African rand and the Mexican peso, held onto to gains having surged, as investors in emerging markets registered relief that Turkey's central bank had hiked its policy rate to 24 percent to restore confidence in the lira.
The greenback took a hit overnight after the U.S. consumer price index (CPI), the government's broadest inflation gauge, rose just 0.2 percent in August and less than the 0.3 percent projected by analysts in a Reuters poll.
"The dollar has sagged mainly due to the soft U.S. CPI," said Masafumi Yamamoto, chief forex strategist at Mizuho Securities in Tokyo.
The dollar's index against a basket of six major currencies was a shade lower at 94.491 () after slipping 0.3 percent on Thursday, when it touched 94.428, its lowest since Aug. 31.
The euro inched up 0.05 percent to $1.1695 () after gaining more than 0.5 percent overnight when it brushed a two-week high of $1.1701.
The ECB kept policy unchanged as expected on Thursday, staying on track to end its bond purchases this year and raise interest rates next autumn.
The Turkish lira was a shade weaker at 6.137 per dollar after ending the previous day on a gain of more than 4 percent.
The lira surged after Turkey's central bank raised its benchmark one-week repo rate by 625 basis points to 24 percent on Thursday, in a bid to stabilize the currency, which had slumped to a record low against the dollar a month ago.
By tightening policy the central bank demonstrated an independent streak, as Turkish President Tayipp Erdogan is a self-declared enemy of high interest rates.
Following the lira's rally, the South African rand gained 1.3 percent against the dollar on Thursday and the Mexican peso rose 1 percent.
MSCI's emerging markets currency index () bounced further away from a 16-month low reached earlier in the week.
"The rate hike by the Turkish central bank deserves praise but the key point going forward is President Erdogan's views on the monetary tightening," said Kota Hirayama, senior emerging market economist at SMBC Nikko Securities.
"It is naive to assume that Erdogan will continue respecting central bank independence. The Turkish central bank will lose credibility again and its rate hike will be wasted if monetary policy is disrupted by politics."
China's yuan was 0.2 percent weaker at 6.8520 in onshore trade after gaining more than 0.4 percent the previous day.
Data released on Friday showed China's investment growth for August fall to a new record low, while industrial output and retail sales for the month both rose by more than expected.
The Australian dollar, seen as a proxy for China-related trades as well as a barometer of risk sentiment, was nearly flat at $0.7194 .
The was headed for a gain of more than 1 percent on the week, having pulled back from a 2-1/2-year low of $0.7085 plumbed on Tuesday.
The dollar traded at 111.83 yen after climbing to 112.08 yen, its highest since Aug. 1, with rising equities dimming the Japanese currency's safe-have allure.