Emerging market stocks' descent to 17 month lows entices U.S. investors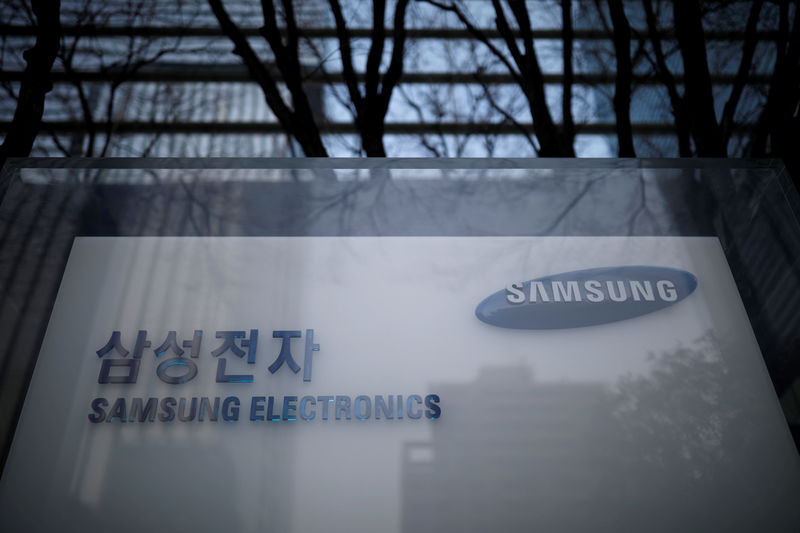 © Reuters. FILE PHOTO: The logo of Samsung Electronics is seen at its office building in Seoul
By David Randall and Rodrigo Campos
NEW YORK (Reuters) – The steep decline in emerging market stocks since early this year are attracting some U.S. fund managers who think they may find long-term bargains amid the sell-off.
Portfolio managers from Harding Loevner, Federated Investors, and Wells Fargo (NYSE:) are among those who have been adding emerging markets stocks to their portfolios in the face of the imposition of import tariffs by President Trump and rising interest rates in the U.S.
Emerging market asset prices have been hit hard this year. The MSCI index of emerging market stocks () closed Friday at its lowest since May 2017 and it is down about 21 percent from January's high. An MSCI index of emerging market currencies () is down 8 percent from its 2018 high, hit in March.
On Thursday, JPMorgan (NYSE:) cut its rating on Chinese equities, the largest weight on the benchmark index, to neutral from overweight on expectations that a protracted trade war with the United States will hurt the Asian giant's economy next year.
Yet some U.S. international and global fund managers say that emerging markets offer better deals than the U.S. market, where stocks continue to hit record highs.
"We're finding opportunities because of the trade war," said Chris Mack, a portfolio manager of the Harding Loevner Global Equity fund.
U.S. President Donald Trump has slapped tariffs on more than half of the $500 billion the U.S. imports from China yearly, for which Beijing has retaliated.
Investor concern about the impact of the trade war has sent stocks in China and other emerging markets sharply lower this year.
Mack's fund has its highest weighting in emerging market stocks since 2006 and its lowest in the U.S. since the same year in search of better values, he said.
The fund sold its position in Google's parent Alphabet Inc (O:) and bought South Korea's Samsung Electronics (KS:). Investors pay more than $25 for every $1 in earnings expected over the next 12 months at Alphabet, while they pay just over $6 at Samsung according to forward price-to-earnings estimates.
"You're getting the benefits of a company that is being boosted by a secular trend at a much cheaper price," Mack said
(Graphic: U.S. vs Emerging Markets stock valuations – https://reut.rs/2NqqUOr)
Brian Jacobsen, senior investment strategist at Wells Fargo Asset Management, said his firm recently upgraded its stance on emerging markets from negative to neutral. The reasoning behind the move included compelling valuations and the likelihood the trade tariffs will not hurt emerging market companies as much as the broad market expects.
"People are slow to come around to the realization that the U.S. isn't going to close its borders to all emerging markets," he said, adding that Vietnamese companies could stand to benefit if the U.S. and China continue to slap tariffs on each other's goods.
Overall, U.S. global funds have nearly 7 percent of their portfolios in emerging market stocks, a 25 percent increase from 3 years ago, according to Lipper, a Refinitiv company.
Yet this year the $58.1 billion Vanguard Emerging Markets ETF () is down almost 15 percent and posted about $2 billion in outflows since July, according to Lipper. It closed on Friday at its lowest since March 2017.
However, there are signs the tide could already be turning.
Investors pumped money into emerging market equities and debt at the fastest weekly rate since April, a Bank of America Merrill Lynch (NYSE:) analysis of EPFR data showed on Friday.
"I've never seen sentiment (on emerging market equities) be so negative when fundamentals are actually pretty good," said Teresa Barger, co-founder and CEO at hedge fund Cartica Management.
"When you get a situation like this, what you usually see is the retail investors getting scared and exiting but institutional investors entering."
Barger is looking beyond China to India and Brazil, both of which may be less affected by the U.S. trade tariffs, she said.
Yousef Abbasi, global market strategist at INTL FCStone in New York, also sees a silver lining for emerging market countries outside of China if the Washington-Beijing trade war intensifies, pointing to Brazil and Indonesia.
"I'd be very selective in where I look for my exposure in emerging markets," he said.
"Look for countries with a large U.S. dollar reserve, direct trade partners with the U.S. and that have (relatively) less exposure in terms of exports to China."
(Graphic: U.S. vs Emerging Markets stock valuations https://tmsnrt.rs/2BWwo16)
(Graphic: Select EM stock benchmarks performance year to date https://tmsnrt.rs/2zTPbZm)
(Graphic: Select EM currencies performance year to date https://tmsnrt.rs/2Mh3iA9)