Fiat Chrysler's Marchionne dies, shares dive on profit slide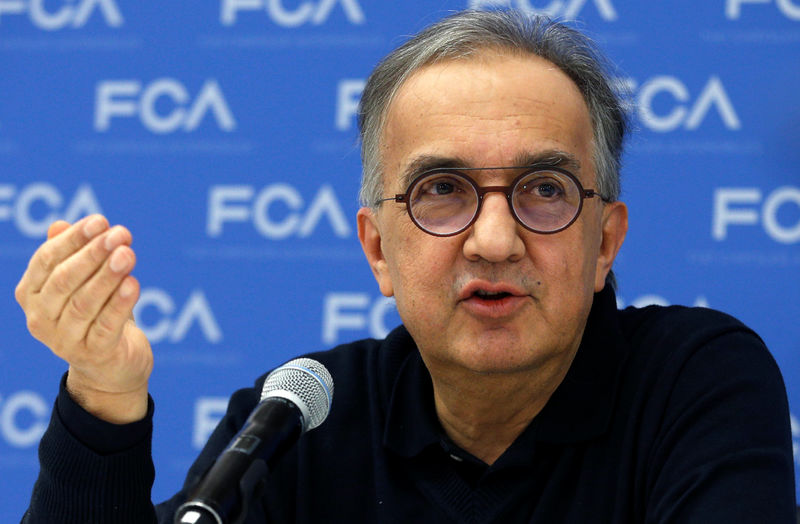 © Reuters. FILE PHOTO: FCA's Marchionne speaks at the North American International Auto Show in Detroit
By Agnieszka Flak
MILAN (Reuters) – Former Fiat Chrysler chief executive Sergio Marchionne has died after a 14-year career in which he helped to rescue the carmaker, the news arriving on Wednesday moments before the group reported a surprisingly heavy fall in profit.
The announcement of the death of Marchionne, one of the auto industry's most tenacious and respected CEOs, drew tributes from rivals and tears from his closest colleagues, a collective grief that overshadowed a big sell-off in Fiat Chrysler shares.
He had fallen gravely ill after what the company had described as shoulder surgery in a Zurich hospital. He was replaced as chief executive last weekend after Fiat Chrysler (FCA) said his condition had worsened.
FCA's scheduled second-quarter earnings presentation, led by Marchionne's successor and former lieutenant Mike Manley, began on Wednesday afternoon with a minute's silence.
As eulogies flooded in, FCA shares fell more than 16 percent as investors digested an unexpected 11 percent fall in adjusted operating profit, well below market forecasts.
"Unfortunately, what we feared has come to pass. Sergio Marchionne, man and friend, is gone," FCA Chairman John Elkann, scion of the controlling Agnelli family, said in a statement.
Marchionne rescued Fiat and Chrysler from bankruptcy after taking the wheel of the Italian carmaker in 2004 and he multiplied Fiat's value 11 times through 14 years of canny dealmaking. He was due to step down at FCA in April next year.
"The best way to honor his memory is to build on the legacy he left us, continuing to develop the human values of responsibility and openness of which he was the most ardent champion," Elkann added.
NEW BOSS, SAME STRATEGY
On Saturday, FCA named Jeep division head Manley, 54, as head of the world's seventh-largest carmaker, saying the Briton would execute a strategy that Marchionne had outlined in June.
On Saturday, Marchionne was also replaced as chairman and CEO of Ferrari (NYSE:) and chairman of tractor maker CNH Industrial, both spun off from FCA.
Underlining the task facing Manley, FCA cut its full-year profit outlook after the weaker-than-expected quarterly earnings. It blamed the result on a weaker performance in China, a market that represents one of the new CEO's immediate headaches.
"The biggest challenges we face and frankly we're going to continue to face … are all focused in China," Manley said.
FCA has yet to make any significant inroads in China.
In Marchionne's June plan, FCA pledged to boost production of sport utility vehicles and invest in electric and hybrid cars as part of a plan to double operating profit by 2022. It also unveiled fresh bold targets for Jeep, FCA's profit engine.
The auto industry has lost one of its strongest protagonists for mergers and acquisitions at a time when strategic alliances with technology companies are increasingly supplanting transformational mergers between traditional carmakers.
Marchionne had advocated industry mergers to share the cost of building electric and self-driving cars.
He gave up the quest when his preferred target, General Motors Co (NYSE:), rejected his advances and focused on fixing FCA's finances first, notably erasing all debt, which he achieved in the quarter to June.
Manley said on Wednesday that his mandate was to deliver the 2022 strategy as "a strong and independent FCA" but added the group would remain "flexible" about any deal opportunities.
In the absence of a partner, Manley needs to show FCA can keep churning out profits on its own, even as emissions rules tighten, SUV competition intensifies and worries over potential U.S. emissions fines abound. FCA is also heavily reliant on North America just as that market is expected to come off its peaks.
The future appears less clear at Ferrari, which Marchionne had been due to lead until 2021 and where a new mid-term strategy was supposed to be unveiled in September.
TRIBUTES PAID
Tributes arrived from industry figures and politicians worldwide, praising his perseverance, hard negotiating skills and candor. [nL5N1UL3RT]
Marchionne resurrected one of Italy's biggest corporate names and revitalized Chrysler, succeeding where the U.S. company's two previous owners – Mercedes parent Daimler and private equity group Carberus – both failed.
"Sergio Marchionne was one of the most respected leaders in the industry whose creativity and bold determination helped to restore Chrysler to financial health and grow Fiat Chrysler into a profitable global automaker," said Ford Motor (NYSE:) Co Executive Chairman Bill Ford Jr.
Daimler Chief Executive Dieter Zetsche in a post on Linkedin said, "The auto industry has lost a real giant. And many of us have lost a very dear friend: Sergio Marchionne."
At FCA, Marchionne flattened an inflexible hierarchy, replacing layers of middle management with a meritocratic leadership style. He slashed costs by reducing the number of vehicle architectures and creating joint ventures to pool development and plant costs.
A tough negotiator known for getting his way, in 2005 Marchionne forced GM to pay Fiat $2 billion not to exercise an option to sell its auto division to the U.S. carmaker – a move that may not have helped his later merger overtures.
Marchionne's track record with operational turnarounds was a little more patchy than his dealmaking. Profitability in Europe is only now gradually recovering, and Alfa Romeo has yet to turn a profit despite multi-billion-euro investments.
In North America, however, Marchionne was quick to end production of unprofitable sedans and retool plants to build pricier SUVs and trucks, a move since emulated by Ford and GM.
Marchionne had "created a remarkable legacy", said Mary Barra, the GM boss that rejected Marchionne's tie-up advances.