Stocks lose momentum, dollar softens after Democrats win U.S. House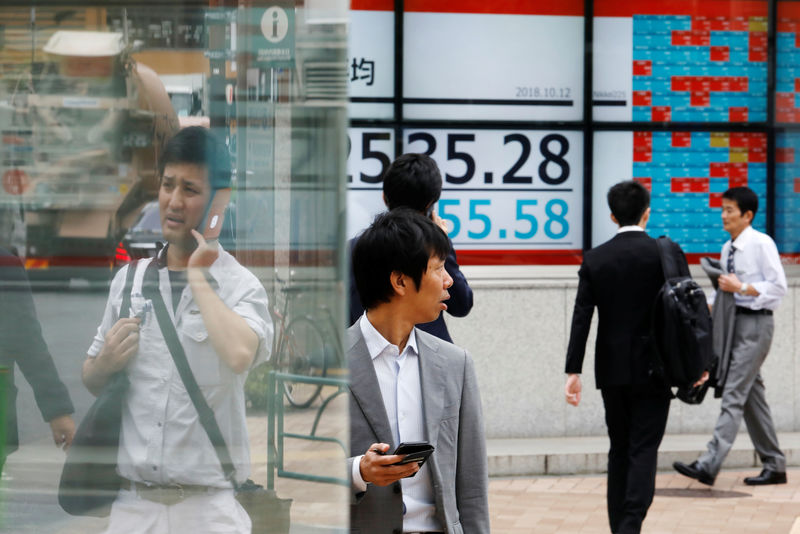 © Reuters. People walk past an electronic board showing Japan's Nikkei average outside a brokerage in Tokyo
By Hideyuki Sano
TOKYO (Reuters) – Wall Street stock futures and Asian shares lost steam on Wednesday after Democrats won control of the U.S. House of Representatives, boosting the party's ability to block President Donald Trump's political and economic agenda.
But European stocks were expected to rise, with spread-betters looking at gains of up to 0.5 percent in Britain's FTSE (), 0.8 percent in France's CAC () and 0.7 percent in Germany's DAX ().
The Democrats' House win creates a hurdle for Republicans to easily pass legislation through both chambers of Congress, clouding the outlook for some of Trump's key economic proposals.
Major U.S. broadcasters projected the Democrats were headed to a gain of more than 30 seats, well beyond the 23 they needed to claim their first majority in the House in eight years, while the Republicans were seen gaining a few more seats in the Senate.
While both outcomes were broadly in line with market expectations, a reason markets did not sell off, the prospect of political gridlock creates some uncertainty for investors. The dollar weakened against most of its major counterparts.
"In the short term, a Republican loss in the House should amplify risk market volatility, detract from positive sentiment, and be positive for U.S. rates," said Ed Al-Hussainy, senior rates and currency analyst at Columbia Threadneedle Investments at Minneapolis in the United States.
"Long dollar and short Treasury futures positioning is relatively stretched going into tonight and could exaggerate short term moves in these prices," he added.
In addition, the newly empowered House Democrats will have the ability to investigate Trump's tax returns, possible business conflicts of interest and allegations involving his 2016 campaign's links to Russia.
In equities markets, U.S. S&P500 futures () last traded 0.1 percent higher and MSCI's broadest index of Asia-Pacific shares outside Japan () were up a similar amount, but they were far off highs hit earlier.
Japan's Nikkei () ended down 0.3 percent, giving up morning gains. ()
"It has clearly become difficult for Republicans to pass additional tax cuts or amendments to Dodd-Frank regulations (on financial institutions) for instance," said Tomoaki Shishido, fixed income analyst at Nomura Securities.
Market sentiment had been volatile in Asian trade with stocks and the dollar swinging on the Republicans' fluctuating prospects of retaining the House.
While a split Congress would put a brake on Trump's agenda, such as tax cuts or deregulation, some investors think the Democrats may agree to more spending.
"There are still areas with compromise for spending, so even with a split government I expect more fiscal stimulus ahead. There is some possibility for compromise on infrastructure spending as well," said Steve Friedman, New York-based senior economist at BNP Paribas (PA:) Asset Management.
"If there is additional fiscal stimulus, it suggests that fiscal policy is more of a tailwind for U.S. growth and it should, all things equal, be supportive for stocks."
On the other hand, many investors expect Trump to continue to take a hard line on tariffs, which he can impose without Congressional approval, and foreign policy.
That keeps alive worries about a trade war between China and the United States.
Trump's massive tax cut, enacted in December, and a spending agreement reached in Congress in February have helped lift the U.S. economy, but they have also widened the federal budget deficit.
As a result, Treasury supply has been growing, pushing U.S. bond yields higher.
The election results pushed down the 10-year U.S. Treasuries yield about 2.5 basis points to 3.189 percent , off its seven-year high of 3.261 percent touched a month ago.
But the debt market also remains under pressure from this week's record volumes of longer-dated government debt supply.
In the currency market, the dollar dipped.
Against the yen, it was 0.3 percent lower at 113.13 , reversing earlier gains to one-month high of 113.82 yen.
The euro rose 0.15 percent to $1.1446 () and the British pound gained 0.1 percent to $1.3117, hitting a three-week high.
Sterling extended gains made the previous day on hopes of a Brexit deal breakthrough after Brexit Secretary Dominic Raab said "Thumbs Up" on his way out of a cabinet meeting.
That helped sterling recover losses following remarks from a senior member of the Northern Irish Democratic Unionist Party earlier that it looked like Britain would exit the EU without a deal.
Oil prices were soft after a 2 percent fall the previous day. U.S. crude futures hit an eight-month low as Washington granted sanction waivers to top buyers of Iranian oil and as Iran said it has so far been able to sell as much oil as it needs to.
U.S. West Texas Intermediate (WTI) crude () futures traded 0.6 percent lower at $61.85 a barrel having hit a low of $61.31 on Tuesday, the weakest price since March 16.
International Brent crude () futures fell 0.25 percent to $71.95, after hitting a low of $71.18 on Tuesday, its lowest since Aug. 16.