Top 5 Things That Moved Markets This Past Week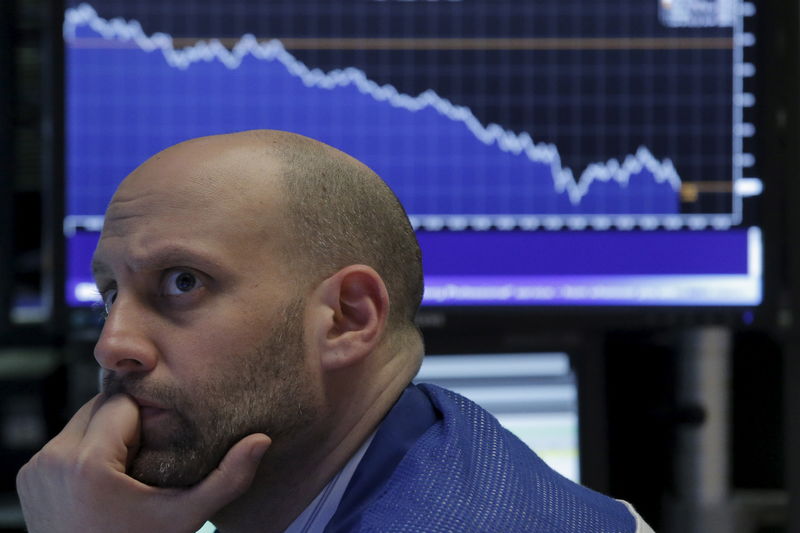 © Reuters. What will next week bring?
Investing.com – Take a peek at the top 5 things that rocked U.S. markets this week.
US Stocks Sidestep Weak Jobs Report to End Week at All-Time Highs
The US jobs market ended 2017 on a sour note after data showed the US economy created just in December, below the 190,000 jobs forecasted by economists, while wage growth, was in line with expectations,
Some participants said the soft jobs report would dampen the case for Fed rate hikes as the central bank would need further evidence of inflationary pressures to hike rates in March.
While others said the report would have limited impact on monetary policy amid a transitionary phase for the Fed as current Fed chair Janet Yellen is expected to make way for incoming Jerome Powell in a few months.
That said, however, falling expectations for a faster pace of rate hikes weighed on interest-rate-sensitive sectors such as financials which fell heavily Friday.
In sharp contrast, however, technology stocks appeared to be picking up from where they left off in 2017, rounding off the week with solid gains driving the tech-heavy to close at all-time highs.
WTI Crude Oil Extends Weekly Winning Steak
Despite closing nearly 1% lower on Friday, crude oil prices notched a fourth straight weekly gain as investors weighed rising US production against the prospect of supply disruptions in Iran and tightening US supplies.
U.S. production rose 28,000 barrels a day (bpd) to nearly 9.8 million barrels a day, Energy Information Administration reported Thursday, sparking fears that US crude production could rise above 10 million bpd.
Investor optimism rose for a faster pace of rebalancing in markets after a Reuters survey underscored OPEC's commitment to ridding the market of excess supplies as its compliance with the deal to trim output rose to 128% in December from 125% in the previous month.
settled at $61.44, down 0.92%, on Friday.
Dollar Down in the Doldrums
It was miserable week for the as it struggled to rebound from three-month lows against its major rivals despite a less dovish-than-expected Federal Reserve Open Market Committee minutes released Wednesday.
The central bank cited the possibility of a steeper path of rate hikes should fiscal stimulus boost output beyond its maximum sustainable level.
Gold Shakes off Prospect of Global Monetary Policy Tightening
have remained steady in recent weeks despite expectation for tightening global monetary as both the Bank of England and Bank of Canada are expected to follow the Fed's lead and raise rates again this year.
The Bank of Canada could raise rates as soon as the end of the January, CIBC's Nick Exarhos said, as Friday's report strengthened the central bank's case to raise rates.
Nomura's George Buckley – who correctly predicted that the Bank of England would hike interest rates in November – said recently that there is room for more rate hikes, estimating the central would raise rates four times by the end of 2019 to curb inflation, which is running well above target.
Bitcoin Makes Stand Against Small Cap Cryptocurrencies
After days of getting pummeled, Bitcoin rose sharply on Friday above a psychological $16,000 barrier as the popular digital currency attempted to recover recent losses.
On the Bitfinex exchange, rose to $16,765, up $1173.5, or 11.83%, as it looks to test its recent all time high of $19,891 set in December.
Bitcoin's hold over the cryptocurrency market has waned in recent months as investors rotate from large cap cryptocurrencies such as bitcoin to small cap cryptocurrencies. Bitcoin's market cap accounts for just 36% of the overall cryptocurrency market, compared to about 80% in early 2017.
Ripple was one of the beneficiaries of the "great rotation" after it rose above $3 on the poloniex exchange Thursday amid bullish expectations that RippleNet, the technology behind the cryptocurrency, would continue to garner support from major financial institutions.
XRP fell more than 30% on Friday, however, as Coinbase quashed rumours that it was working on a plan to launch support of Ripple.
There was a shakeup in the top 10 cryptocurrency standings by market cap as , , and moved up the ranks. While lost its place as the second most valuable cryptocurrency by market cap as it struggled to hold gains after hitting an all-time high above $1,000 on Thursday.