Top 5 Things to Know in the Market on Friday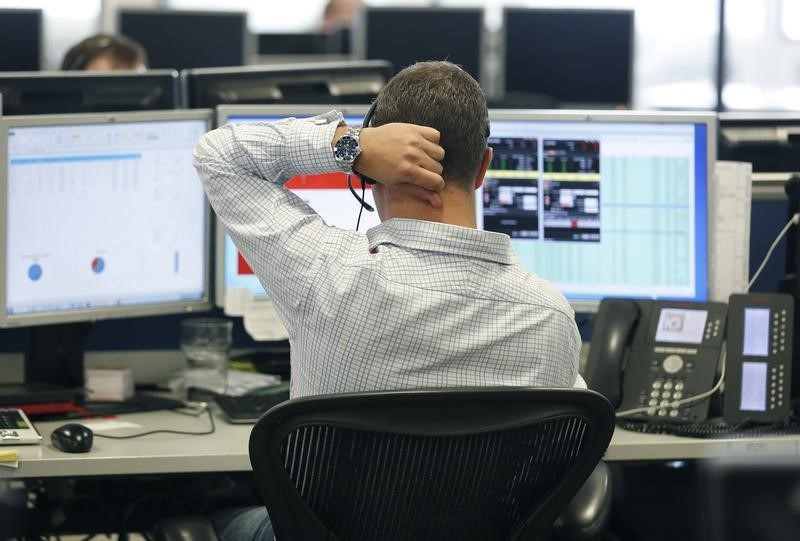 © Reuters. 5 key factors for the markets on Friday
Investing.com – Here are the top five things you need to know in financial markets on Friday, November 17:
1. Bitcoin breaks $8,000 before pulling back
Bitcoin pulled back from record highs in early morning trade after breaking through the $8,000 mark to hit record highs.
On the U.S.-based Bitfinex exchange, rose to an intraday high of $8,040.0, but by 6:02AM ET (11:02GMT), the largest cryptocurrency had pared gains, rising just 0.67% to 7,918.00.
Sentiment in bitcoin turned bullish after Square said Wednesday it was testing support for bitcoin to allow customers to buy and sell the digital currency through its payment app Cash.
Over the weekend, bitcoin fell as much as 29% from its previous November 8 record high just shy of $7,900, after an upgrade – segwit2x – to its network was cancelled, stoking uncertainty over the future of the popular digital currency as the Segwit2x upgrade was aimed at speeding up transactions on the bitcoin network.
2. Dollar retreats though tax reform limits damage
on a Wall Street Journal report that investigators into possible Russian interference in the 2016 U.S. presidential election had subpoenaed President Donald Trump's election campaign for documents.
Special counsel Robert Mueller's team issued the subpoena last month for documents containing specified Russian keywords from more than a dozen officials, according to the report.
Losses were limited however after an important U.S. tax reform bill was passed on Thursday. The U.S. House of Representatives , which will now be debated by the Senate.
Investors were still cautious however, as the Republican majority is smaller in the Senate and no decisive action is expected until after next week's Thanksgiving holiday.
The , which measures the greenback's strength against a trade-weighted basket of six major currencies, was down 0.31% to 93.55 by 6:03AM ET (11:03GMT).
3. Dow set for pull back in lackluster week
U.S. futures pointed to a mostly mixed open on Friday as most investors looked set to from the tax reform approval by the House announced a day earlier. The was set for weekly gains of less than 0.2% ahead of a session with few references. On the economic calendar, will be released at 8:30AM ET (14:30GMT). At 6:05AM ET (11:05GMT), the blue-chip fell 29 points, or 0.12%, lost 4 points, or 0.15%, while the inched up 3 points, or 0.05%.
Elsewhere, on the back of disappointing earnings updates and a series of broker downgrades, leaving regional indexes on track for their second weekly fall in a row.
Earlier, Asian shares ended mixed as strong Wall Street earnings and a step forward on U.S. tax reform brightened the mood, but a weaker dollar weighed on exporters in the region. Japan's ended with gains of 0.2%, while China's closed down around 0.5%.
4. Oil set to break 5-week winning streak despite 1% rise
but were still on track for weekly losses of around 2% for the U.S. benchmark, breaking a winning streak in the five prior weeks.
Specifically, gained 1.47% to $55.95 at 6:06AM ET (11:06GMT), while traded up 0.99% to $61.97.
An agreement by the Organization of the Petroleum Exporting Countries (OPEC) and other producers led by Russia to limit oil production has propped up prices in recent months, with the deal widely expected to be extended at the group's next on November 30.
However, recent indications that Moscow considers the end-of-the-month meeting to be too early to commit to an extension through 2018 has dampened bullish sentiment.
Later on Friday, market participants will also keep an eye on U.S. shale production when Baker Hughes releases its most recent .
Last week the oil services provider said that oil rigs operating in the U.S. . It was the biggest jump since June, sparking concern that U.S. shale producers will ramp up output with prices holding near 28-month highs.
The weekly rig count is an important barometer for the drilling industry and serves as a proxy for domestic oil production.
5. Tesla unveils electric big-rig truck
Tesla Inc (NASDAQ:) unveiled late Thursday a that it will start producing in 2019, throwing itself into a new market even as it struggles to roll out an affordable sedan on which the company's future depends.
Chief Executive Elon Musk unveiled the big rig, dubbed the Tesla Semi, by riding the truck into an airport hangar near Los Angeles in front of an invited crowd of what the firm said were potential truck buyers and Tesla car owners.
Shares in Tesla were up 1.76% to $317.99 in pre-market trade Friday.
In other company news to watch, Abercrombie & Fitch (NYSE:) and Foot Locker (NYSE:) will release earnings before the opening bell on Friday. With third quarter earnings nearly wrapped up, around 70% of the 473 S&P 500 firms that have released numbers through Thursday have beat on both the top and bottom line.