Top 5 Things to Know in the Market on Friday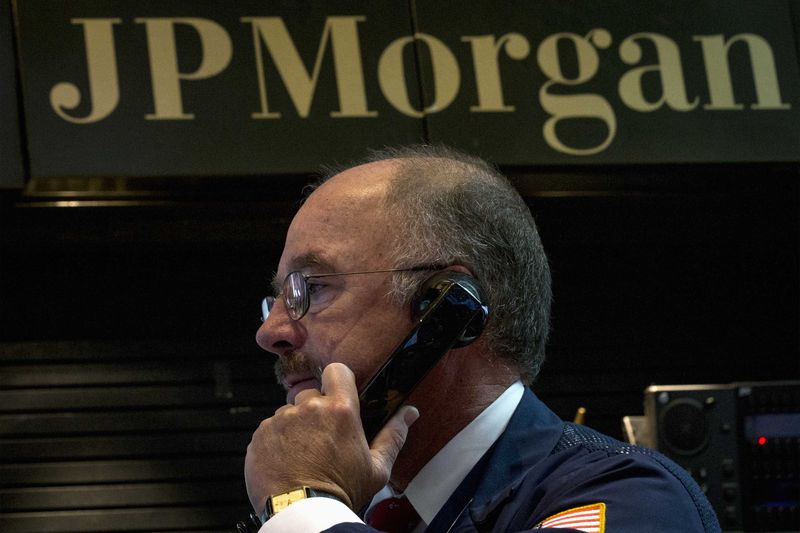 © Reuters. 5 key factors for the markets on Friday
Investing.com – Here are the top five things you need to know in financial markets on Friday, January 12:
1. JP Morgan to kick off Q4 earnings season
Friday marks the "unofficial" start to the (22 firms have already reported) as JP Morgan (NYSE:) steps up to the plate as the first component and big bank to reveal figures.
The blue-chip financial institution will report its numbers at around 7:00AM ET (12:00GMT) in what is widely expected to be a due to the recent tax overhaul.
Despite the fact that lenders are expected to benefit from the legislation, they will first have to adjust deferred tax assets and liabilities to account for a lower corporate rate, and also take charges related to other tax changes.
JP Morgan is estimated to take about a 35% hit to net income from the adjustments.
On the other hand, Wells Fargo (NYSE:) -which reports earnings at 8:00AM ET (13:00GMT) Friday- is expected to report a $2.5 billion boost to its bottom line largely because it will owe less tax in the future on income from a set of businesses including mortgage servicing.
2. December inflation on watch for impact on Fed rate hike path
Market participants will digest the latest U.S. inflation figures from the last month of 2017 at 8:30AM ET (13:30GMT). Annual headline inflation is expected to ease to from November's reading of 2.2% while core CPI is forecast to stand pat at .
Core prices are viewed by the Federal Reserve as a better gauge of longer-term inflationary pressure because they exclude the volatile food and energy categories. The central bank usually tries to aim for 2% core inflation or less.
Although the Fed's next decision comes on , markets have penciled in the next rate hike for March with odds at 68%, according to Investing.com's .
Also on Friday's docket, December will accompany inflation figures at 8:30AM ET (13:30GMT).
3. Euro surges past $1.21 to 3-year high on ECB tapering speculation
Ahead of Friday's data, with particular pressure coming from the euro as investors speculated that the European Central Bank is preparing to wind down its massive stimulus program.
On Thursday, from the last ECB meeting showed that the euro zone monetary authority had taken into account the positive economic momentum and policymakers believed that "language pertaining to various dimensions of the monetary policy stance and forward guidance could be revisited ".
Euro-dollar broke through the 1.20 level on the news and the rally continued on Friday taking the pair to a .
At 5:53AM ET (10:53GMT), gained 0.76% to $1.2122, placing pressure on the , which measures the greenback's strength against a trade-weighted basket of six major currencies, which fell 0.56% to 91.15.
4. Oil on track for 3% weekly gains despite pull back from 3-year high
as investors took profit after five consecutive sessions of gains.
fell 0.39% to $63.55 at 5:54AM ET (10:54GMT), while lost 0.06% to $69.22.
The U.S. benchmark was still on track for weekly gains of more than 3% although weak oil data from China weighed on prices. China's crude oil imports in December eased to 33.7 million metric tons, or 7.97 million barrels per day, versus 37.04 million metric tons in November, customs data showed on Friday.
Later on Friday, market participants will also keep an eye on U.S. shale production when Baker Hughes releases its most recent .
Last week that oil services provider said that oil rigs operating in the U.S. declined from 747 to , helping to soothe concerns that increases in American production would derail OPEC's attempts to curb output and rebalance global markets.
5. China trade boom stutters
Data out from China on Friday showed the world's second largest economy saw a during December.
In December, Chinese exports rose from a year earlier, beating expectations of a 9.1% advance, but cooling from a robust 12.3% gain in November, the General Administration of Customs said on Friday.
More worrying for global partners, imports grew at an even slower pace of year-on-year at the end of 2017, missing estimates for a 13.0% rise and a far cry from November's 17.7% surge.