Top 5 Things to Know in the Market on Monday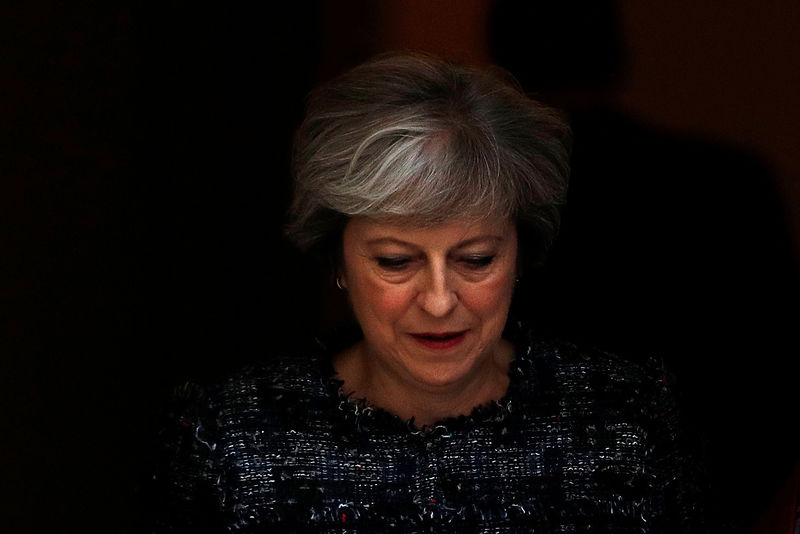 © Reuters. Top 5 things to know today in financial markets
Investing.com – Here are the top five things you need to know in financial markets on Monday, November 13:
1. British Pound Tumbles as Trouble Mounts for May
The to start the week, as troubles mounted for British Prime Minister Theresa May after the Sunday Times reported that from her Conservative Party have agreed to sign a letter of no-confidence in her.
Just eight more are needed to trigger a party leadership contest, the mechanism through which May could be forced from office and replaced by another Conservative.
The pound came under additional pressure after UK Brexit Secretary David Davis said on Sunday that Britain for how much it believes it owes the European Union, highlighting the lack of progress plaguing the divorce negotiations.
Sterling was last down around 1% against the dollar at , retreating from the one-week peak of 1.3229 set on Friday. The pound was also down against the euro, with climbing 0.7% to a more than one-week peak of 0.8905.
2. Global Stocks Step Back in Cautious Trade
Global stocks were mostly lower in cautious trade, as pessimism over the state of play on U.S. tax cuts helped drag markets down from record highs reached late last week.
Asian-Pacific markets . Among notable standouts, slumped 1.3% to pull away further from a 25-year high tested last week. It was the Nikkei's biggest one-day decline in six months.
In Europe, most of the region's bourses in mid-morning trade, as investors focused on earnings, but London's rose as the pound weakened.
On Wall Street, U.S. stocks looked set to open modestly lower, as investors looked to key earnings reports to set the tone for the markets. Wall Street's three major indexes , snapping an eight-week winning streak.
3. Bitcoin Volatility Not Going Away
Bitcoin prices , after slumping by more than 20% over the weekend in the wake of a cancelled software upgrade, while the offshoot Bitcoin Cash fell sharply following a 50% weekend rally.
Bitcoin fell to as low as $5,426 on Sunday, down almost 32% from a record high of $7,888 touched last Wednesday. The digital currency last traded at by Monday morning, up almost 10% on the day.
Bitcoin, which is known for sharp swings, has tended to rebound quickly from pullbacks. It has risen more than 500% so far this year and at current prices has a total market capitalization of around $105 billion.
As Bitcoin tumbled traders shifted to an alternative version of the digital currency, Bitcoin Cash, which was generated from another software split on August 1.
was last at $1,154, down about 15% for the day, after soaring around 50% on Sunday to an all-time high of $2,790.00.
4. Oil Slips From 28-Month Highs as U.S. Drilling Picks Up
Oil prices were a bit lower, amid indications that U.S. producers will ramp up output to take advantage of the recent rally.
Oilfield services firm Baker Hughes said Friday that the number of active U.S. rigs drilling for oil last week. It was the biggest jump since June, sparking concern that U.S. shale producers will ramp up output with prices holding near 28-month highs.
The weekly rig count is an important barometer for the drilling industry and serves as a proxy for domestic oil production.
U.S. West Texas Intermediate (WTI) dipped 0.2% to $56.62 a barrel. It reached its best level since July 2015 at $57.92 on Wednesday of last week.
Meanwhile, futures, the benchmark for oil prices outside the U.S., shed 0.5%, to $63.20 a barrel. It rallied to $64.65 last Wednesday, a level not seen since June 2015.
5. Singles Day Sale Tops $45B as Alibaba Sets Record
China's top e-commerce giants raked up over $45 billion during the annual online shopping fiesta known as 'Singles Day', creating a new record in global retail sales for any single day and cementing it as the world's biggest shopping event.
Smashing its own record from last year, Alibaba's (NYSE:) Singles' Day sales extravaganza hit a record 168.2B yuan ($25.4B). That represents an impressive 39% increase on last year's sales total of 120.7B yuan ($17.79 billion).
Rival online retailer JD.com (NASDAQ:), China's second-largest e-commerce firm, also enjoyed robust sales of 127.1B yuan ($19.14 billion), up 50% from a year ago.