Top 5 Things to Know in the Market on Thursday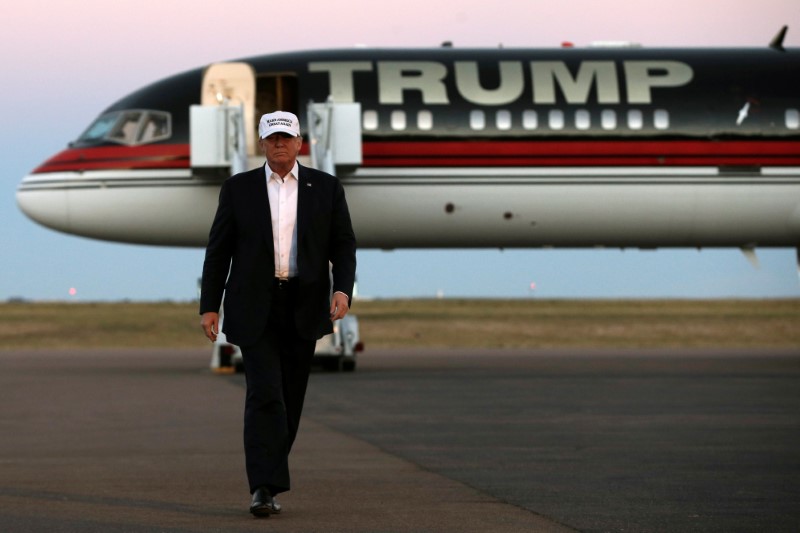 © Reuters. 5 key factors for the markets on Thursday
Investing.com – Here are the top five things you need to know in financial markets on Thursday, January 25:
1. Trump touches down in Davos
U.S. President Donald Trump arrived in Switzerland on Thursday to attend the World Economic Forum where he will .
is expected to meet with Israeli Prime Minister Benjamin Netanyahu, British Prime Minister Theresa May, and other world leaders in a tight schedule on Thursday.
White House senior economic adviser Gary Cohn said Trump will use his scheduled speech in Davos on Friday to encourage global companies to invest in the United States and take advantage of Trump's corporate tax cuts, while stressing his "America First" policies and seeking more reciprocal trade policies from U.S. allies.
2. ECB expected to stay on hold until March
The European Central Bank is to keep interest rates at their when it holds its first policy meeting of the year at 7:45AM ET (12:45GMT) on Thursday.
ECB chief Mario Draghi will hold what will be a 45 minutes after the rate announcement.
to evaluate whether the ECB thinks the euro zone recovery is now so strong that it can end its €2.5 trillion ($3.1 trillion) stimulus program in one fell swoop in September, as some in its ranks have been suggesting recently.
The and surged this month after minutes from the ECB's December meeting signaled a revisit to its communication stance in "early" 2018 and specifically a pledge to continue its €2.5 trillion bond-purchasing program.
However, markets widely expect the ECB to hold its course and wait for the March meeting to move forward with any tweaks to guidance.
3. Dollar continues to struggle ahead of ECB and U.S. data
The dollar fell to a against a currency basket on Thursday, a day after the Trump administration outlined the positive impact from a , appearing to back off the traditional presidential backing of a strong greenback, while the euro was steady ahead of the ECB policy decision.
"Obviously a is good for us as it relates to trade and opportunities," Mnuchin told a press briefing on Wednesday.
The , which gauges the U.S. currency against a basket of six major rivals, hovered near fresh three-year lows hit overnight of 88.62, a level not seen since December 2014. At 6:02AM ET (11:02GMT), it fell 0.12% to 88.91.
Ahead of the the ECB policy meeting, holding steady near its strongest level since December 2014.
In U.S. data out Thursday, market participants will keep an eye on along with the and , both corresponding to month of December.
4. Oil prices eye new milestones
on Thursday as data released a day earlier showed that U.S. crude inventories declined for a tenth straight week. The weak dollar also supported oil as the exchange translates to lower prices for holders of foreign currencies.
Brent prices topped $71 for the first time since December 2014 on Thursday, mimicking lows seen in the dollar, while the U.S. benchmark last held above the psychological $66 level, also more than a three-year high.
gained 0.64% to $66.03 at 6:03AM ET (11:03GMT), while traded up 0.34% to $70.77, pulling back from an intraday high of $71.20.
5. Wall Street set for new all-time highs
U.S. futures suggested that bullish sentiment in American stocks was set to continue push prices to fresh all-time highs on Thursday. The major indexes are up at least 6% year-to-date as strong earnings and a lower corporate tax rate help maintain optimism in the economy.
At 6:04AM ET (11:04GMT), the blue-chip rose 42 points, or 0.16%, advanced 5 points, or 0.18%, while the gained 30 points, or 0.44%.
Elsewhere, on Thursday as investors looked ahead to the ECB policy decision and posterior press conference from ECB president Mario Draghi.
Earlier, as market players kept an eye on U.S. trade developments and Japan's led losses, sliding more than 1%, on continued weakness.