Top 5 Things to Know in the Market on Tuesday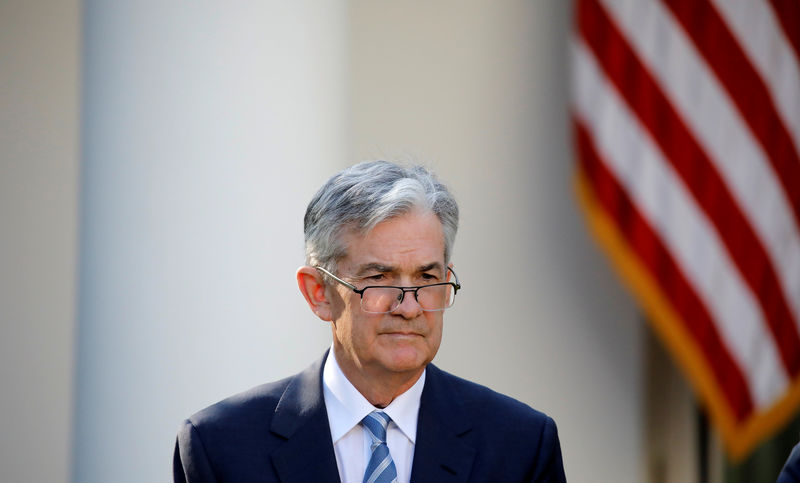 © Reuters. Top 5 things to know today in financial markets
Investing.com – Here are the top five things you need to know in financial markets on Tuesday, November 28:
1. Senate Confirmation Hearing for Next Fed Chair
Markets awaited comments from the for fresh clues on the likely trajectory of monetary policy.
, selected by President Donald Trump as the next Fed chair, appears before the Senate Banking Committee at 9:45AM ET (1445GMT) for his confirmation hearing, which should provide some insight into how he plans to lead the Fed.
In late Monday afternoon, Powell said he will stay on the course laid out by his predecessor Janet Yellen and continue to raise interest rates while allowing its balance sheet to gradually shrink. He added that the Fed needed the capacity "to respond decisively and with appropriate force" to new threats to the economy.
The U.S. central bank is scheduled to hold its final policy meeting of the year on Dec. 12-13, with interest rate futures pricing in a 100% chance of a rate hike at that meeting, according to Investing.com's . However, markets appeared doubtful over the central bank's ability to raise rates as much as it would like next year due to concern over the sluggish inflation outlook.
2. Trump to Meet Senate Republicans in Tax Reform Push
U.S. President Donald Trump will meet with Senate Republicans at their weekly luncheon at the U.S. Capitol today to discuss their party's efforts to pass tax reform legislation.
Senators Ron Johnson and Bob Corker, both members of the Senate Budget Committee, said they the tax package at a Tuesday hearing that Republican leaders hoped would send the legislation to a full Senate vote as early as Thursday.
Their opposition could create the first major hurdle for the Republican tax overhaul in the Senate, where political infighting killed the party's effort to overturn the Obamacare healthcare law earlier this year.
Republicans have only a one-vote majority on the 23-member budget committee. More than two Republican defections would likely kill the bill.
The , which tracks the greenback against a basket of six major rival currencies, was a near the 93-handle.
3. Global Stocks Mixed as Investors Keep Wary Eye on China
Global stock markets were mixed, as Chinese equities remained in focus following recent declines.
Asian-Pacific markets , as Chinese stocks stumbled for a second straight session, with confidence dented by rising bond yields as Beijing intensified a crackdown on risky financing, threatening to squeeze corporate profits.
In Europe, most of the region's bourses in mid-morning trade, as market players cheered results from the Bank of England's stress test, which deemed that UK lenders could deal with a "disorderly" Brexit.
On Wall Street, U.S. stock futures pointed to a at the open. Wall Street's major indexes on Monday, retreating modestly from record highs set during the session.
4. Oil Continues Lower Amid Doubts Over OPEC Outcome
Oil prices , with traders questioned whether Thursday's will result in an extension to an output-cut deal that was agreed upon at the start of this year, as Russia has sent mixed signals about whether it will back the move. Those production cuts are due to expire in March 2018.
Easing concern over a disruption to U.S. supplies also weighed after TransCanada said its on Tuesday, though at a "reduced level" to allow a safe and controlled run of service.
futures lost 50 cents, or about 0.8%, to $57.62 a barrel, while was at $62.98, down 40 cents, or 0.7%, from its last close.
Meanwhile, industry group the American Petroleum Institute is due to release its at 4:30PM ET (2130GMT), amid forecasts for an oil-stock drop of around 3.1 million barrels.
5. Bitcoin Keeps Eye on $10,000-Level
The price of the digital currency bitcoin , closing in on the symbolic $10,000 threshold, amid growing fears over an asset bubble.
rose to $9,895 on the U.S.-based Bitfinex exchange, the highest in its nine-year history. It was last at $9,850, up 1.2% on the day.
Bitcoin, which started 2017 at about $1,000 and broke through $5,000 in October has risen almost 900% so far this year as investors in the digital currency shrug off warnings of a bubble.
, the second most valuable cryptocurrency by market cap after bitcoin, was at $473.26 after rising to a record high of $491.89 on Monday. It is up more than 5,200% for the year to date.