Top 5 Things to Know in the Market on Tuesday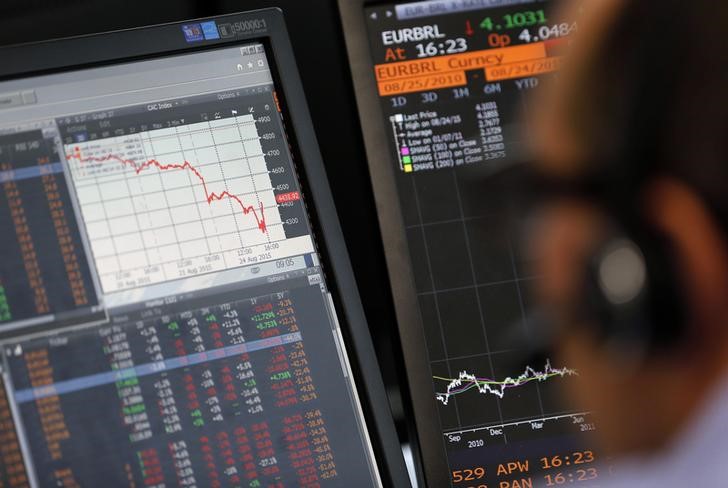 © Reuters. 5 key factors for the markets on Tuesday
Investing.com – Here are the top five things you need to know in financial markets on Tuesday, January 9:
1. Global stocks continue move higher
The and both closed at fresh record highs on Monday, though the took a slight step back, and U.S. futures pointed to another small move higher for Tuesday's session as investors took positions ahead of Friday's full schedule when Wells Fargo (NYSE:) and JPMorgan (NYSE:) kick off the fourth quarter reporting season and the latest will be released. At 6:00AM ET (11:00GMT),the blue-chip rose 42 points, or 0.17%, advanced 1 point, or 0.05%, while the edged forward 7 points, or 0.07%.
Elsewhere, European equities continued the on Tuesday, hitting . The benchmark advanced 0.26% by 6:01AM ET (11:01GMT), Germany's rose 0.18% while London's traded up 0.37%.
Earlier, . Of particular note, Japan's returned from a holiday to close with gains of 0.6% at its highest level since November 1991.
2. U.S. 10-year Treasury yield hits 2.5%
Yields on the 10-year U.S. Treasury note moved higher on Tuesday, briefly breaking through the 2.5% level overnight to an intraday high of 2.506%.
That was the first time the benchmark yield, which moves inversely to bond prices, moved above 2.5% since the tax reform bill was confirmed back in December, although it still remained far from the 2017 high of 2.629%.
At 6:02AM ET (11:02GMT), the gained 1.4 basis points, or 0.58%, to 2.496%.
3. Dollar hits 1-week highs ahead of JOLTS
The against other major currencies on Tuesday as investors looked ahead to a light day for economic data.
Market participants will take stock of more labor market data with the release of (JOLTS) at 10:00AM ET (15:00GMT).
Coming after last Friday's that disappointed consensus but still showed a solid labor market, outgoing Federal Reserve chair has cited JOLTS when assessing labor market conditions.
Strong fundamentals would encourage the U.S. central bank to forge ahead with gradually tightening monetary policy this year despite inflation persistently running below its 2% target.
Markets price in odds of 68% for the next 25 basis point hike to occur in March, according to Investing.com's .
At 6:03AM ET (11:03GMT), the , which measures the greenback's strength against a trade-weighted basket of six major currencies, gained 0.24% at 92.30.
4. BoJ trims bond purchases, pushing yen higher
Markets seemed to be reminded on Tuesday that the eventual path of the Bank of Japan's ultra-loose monetary policy will be towards tightening.
The in market operations, helping to stoke speculation about a future exit from its massive stimulus policy.
Specifically, the Tokyo's central bank cut its purchases of Japanese government bonds of 10 to 25 years left to maturity and those of 25 to 40 years to maturity by 10 billion yen ($88.39 million) each from its previous operations.
Furthermore, Kyodo News reported that the BoJ will consider raising its forecast for 2018 economic growth at its January 22-23 meeting.
Even though most economists expect the BOJ to keep both short-term rates and the 10-year bond yield target unchanged at least until the second half of 2019, while most experts believe the Japanese central bank will or after, the hint of removing accommodation pushed the yen higher despite generalized dollar strength on Tuesday.
At 6:04AM ET (11:04GMT), fell 0.27% to 112.81.
5. Oil breathes sigh of relieve from drop in active U.S. oil rigs
, still boosted by a decline in U.S. oil rigs and supply cuts by major oil producers, while market prices waited to see if U.S. stockpiles would fall for an eighth straight week.
The American Petroleum Institute will release its after the market close Tuesday, while the will be released a day later amid expectations for an inventory decline of 4.1 million barrels.
gained 0.24% to $61.88 at 6:05AM ET (11:05GMT), while was unchanged at $67.78.