Top 5 Things to Know in the Market on Wednesday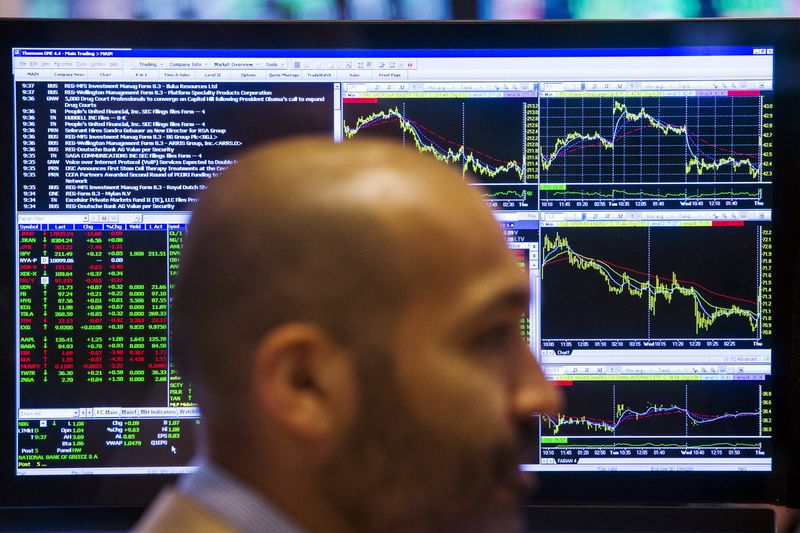 © Reuters. Top 5 Things to Know in the Market on Wednesday
Investing.com – Here are the top five things you need to know in financial markets on Wednesday, November 8:
1. Dollar Stalls Amid U.S. Tax Reform Jitters
The dollar steadied against other major currencies on Wednesday following reports that a key corporate tax cut currently under discussion in U.S. tax reforms plans .
The Washington Post reported on Tuesday that Senate Republican leaders are thinking of postponing the implementation of the major corporate tax cut to comply with Senate rules.
The U.S. dollar had been supported in recent session by hopes the U.S. administration's tax cuts could boost the economy. If enacted, the bill would be the biggest overhaul of the U.S. tax system since the 1980s.
It would also be the first major legislative achievement since Republicans took control of the White House and Congress in January, but doubts remain over the scale of borrowing needed to finance the bill and the timetable for its passage this month.
The , which measures the greenback's strength against a trade-weighted basket of six major currencies, was little changed at 94.76 by 05:50 a.m. ET (09:50 GMT).
2. Crude Prices Weaken Ahead of Inventory Data
from the Energy Information Administration was set to be released later Wednesday, amid forecasts for an oil-stock drop of around 2.8 million barrels, which would mark the second weekly decline in a row.
On Tuesday, the American Petroleum Institute said crude stockpiles declined by in the week ending November 3, disappointing expectations for a drawback of 2.7 million barrels.
The U.S. West Texas Intermediate crude December contract was down12 cents or about 0.21% at $57.08a barrel by 05:50 a.m. ET (09:50 GMT), not far from Monday's two-year peak of $57.55.
Elsewhere, for January delivery on the ICE Futures Exchange in London was steady at $63.69 a barrel, just off a two-year high of $64.42 hit on Tuesday.
Prices were also hit by data showing that China's oil imports dropped to 7.3 million million barrels per day (bpd) in October from an almost record-high of 9 bpd the previous month.
China is the world's second biggest oil consumer.
3. Trump Asia Tour Reignites Tensions With North Korea
In an address to the South Korean parliament on Wednesday, U.S. President Donald Trump , saying that it "has interpreted America's past restraint as weakness."
"This would be a fatal miscalculation. This is a very different administration than the United States has had in the past," he added.
Trump arrived in South Korea on Tuesday after meeting with Japan Prime Minister Shinzo Abe over the weekend.
Donald Trump is the first U.S. president to speak before South Korea's parliament since Bill Clinton in 1993. The U.S. president is scheduled to continue his tour in China later on Wednesday.
4. Gold Benefits From Softer Dollar, Geopolitical Worries
Gold prices edged higher on Wednesday, as concerns over the implementation of a potential U.S. tax overhaul and especially its timing dampened demand for the dollar.
Meanwhile, safe-haven demand was also boosted by U.S. President Donald Trump's most recent comments on North Korea, saying that the U.S. would defend itself against Pyongyang's nuclear threat.
Markets were also jittery as Saudi Arabia over the weekend launched an among the highest levels of the establishment. In a separate event, the Saudi Kingdom accused Iran of being responsible for a ballistic missile attack carried out in Yemen, adding to local geopolitical tensions.
In addition, Lebanese Prime Minister Saad Hariri surprised markets on Saturday by , citing assassination threats and blaming Iran for interference in Lebanon.
Comex were up 0.28% at $1,281.44 a troy ounce by 05:50 a.m. ET (09:50 GMT).
5. U.S. Earnings Season Continues to Wind Down
Dozens of companies are expected to release quarterly results today, as the U.S. earnings season begins to wind down.
AdvanSix Inc (NYSE:), Alaska Communications Systems (NASDAQ:), Command Security Corp, Global Partners LP (NYSE:), AmpliPhi Biosciences Corp (NYSE:) and InfoSonics Corp (NASDAQ:) are a few of the names posting results ahead of the opening bell.
After the close, AmTrust Financial Services Inc (NASDAQ:), Athersys Inc (NASDAQ:), Biostage Inc (OTC:), BlackRock Kelso Capital Corporation (NASDAQ:), Corecivic Inc (NYSE:), FibroGen Inc (NASDAQ:) and Infinera Corporation (NASDAQ:) are set to release earnings.
More than 80% of the has already reported quarterly results. Around 73% of those companies have surpassed earnings expectations, while 65% have surpassed sales estimates, according to Thomson Reuters I/B/E/S.