Top 5 Things to Know in the Market on Wednesday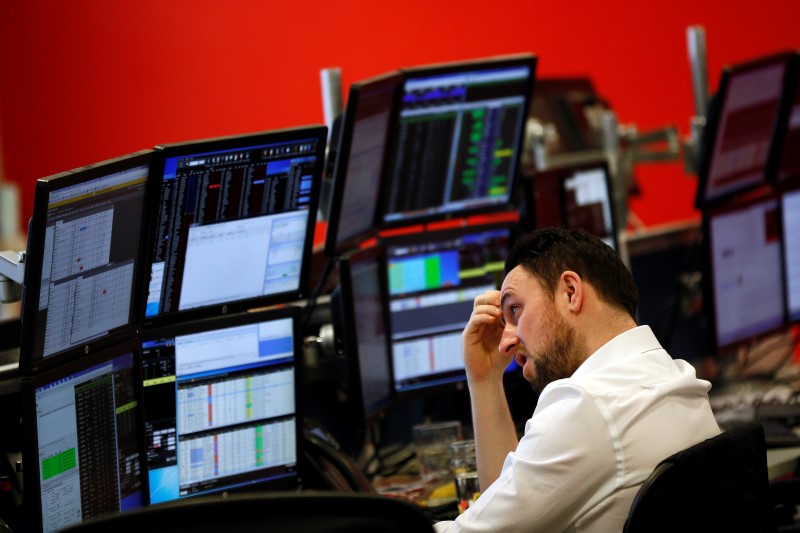 © Reuters. 5 key factors for the markets on Wednesday
Investing.com – Here are the top five things you need to know in financial markets on Wednesday, November 15:
1. European and Asian stocks on longest losing streak in a year
Asian equities ended Wednesday in the red as concerns about U.S. tax reform continued to weigh on equities. Japan's closed lower for a fifth straight day, its longest bearish run since September 2016, while the benchmark fell 1.6%, a sixth consecutive day of losses and its longest losing streak since May 2016.
European bourses on Wednesday were on track for their as buyer exhaustion began to weigh on stocks with traders taking protective positions ahead of fears of a correction. The pan-European was off around 0.8% by 5:54AM ET (10:54GMT), its seventh consecutive losses in what is its worst streak since October 2016.
on Wednesday although the closed a day earlier in what was only its second day of losses. At 5:55AM ET (10:55GMT), the blue-chip fell 132 points, or 0.56%, lost 14 points, or 0.55%, while the traded down 33 points, or 0.53%.
2. U.S. inflation and retail sales to set the mood
The Commerce Department will publish October inflation figures at 8:30AM ET (13:30GMT) Wednesday. Market analysts expect consumer prices to rise , while core inflation is forecast to inch up .
On a yearly base, core CPI is projected to climb . Core prices are viewed by the Federal Reserve as a better gauge of longer-term inflationary pressure because they exclude the volatile food and energy categories. The central bank usually tries to aim for 2% core inflation or less.
Rising inflation would be a catalyst to push the Fed toward raising interest rates.
At the same time Wednesday, the Commerce Department will publish data on retail sales for October. The consensus forecast is that the report will show retail sales increased last month. Core sales are forecast to gain .
Rising retail sales over time correlate with stronger economic growth, while weaker sales signal a declining economy. Consumer spending accounts for as much as 70% of U.S. economic growth.
3. Dollar hits 3-week low with Fed hike fully priced in
The on Wednesday, pressured lower by a stronger euro and increased concerns that Republicans will not be able to push through a tax overhaul this year.
The , which measures the greenback's strength against a trade-weighted basket of six major currencies, was down 0.27% to 93.47 by 5:56AM ET (10:56GMT), after hitting an intraday low of 93.36, matching its lowest level since October 26.
Uncertainties over tax measures have hit the dollar in recent sessions, sending it down by more than 1% since last week.
The recent weakness has occurred despite the fact that markets have fully priced in a rate hike by the Federal Reserve at its December meeting. The odds pass the 50% threshold for an additional increase next year in June, according to Investing.com's .
4. Oil slumps 1% as faith in market rebalancing wanes
, continuing Tuesday's slide after the International Energy Agency cast doubts over the past few months' narrative of tightening fuel markets, while investors kept a .
slid 1.15% to $55.06 at 5:57AM ET (10:57GMT), while traded down 1.17% to $61.48.
Traders were also wary ahead of weekly supply data later in the day. The U.S. Energy Information Administration will release its official for the week ended November 10 at 10:30AM ET (15:30GMT).
After markets closed Tuesday, the American Petroleum Institute said that U.S. oil inventories last week. That compared with analysts' expectations for a decline of around 2.2 million barrels.
5. Airbus lands record $50 billion order
Airbus (PA:) landed a , worth around $50 billion on Wednesday as U.S. investor Bill Franke raised his bet on budget airlines in an order placed at the Dubai Airshow.
U.S. rival Boeing (NYSE:) also obtained its own $27 billion order at the airshow from flydubai for 175 of it 737 Max jets, as well as purchasing options for 50 more aircraft.
In other company news to watch, Target (NYSE:) will report earnings ahead of the opening bell Wednesday while Cisco Systems (NASDAQ:) will be up to bat after the market close.