Top 5 Things to Know in The Market on Wednesday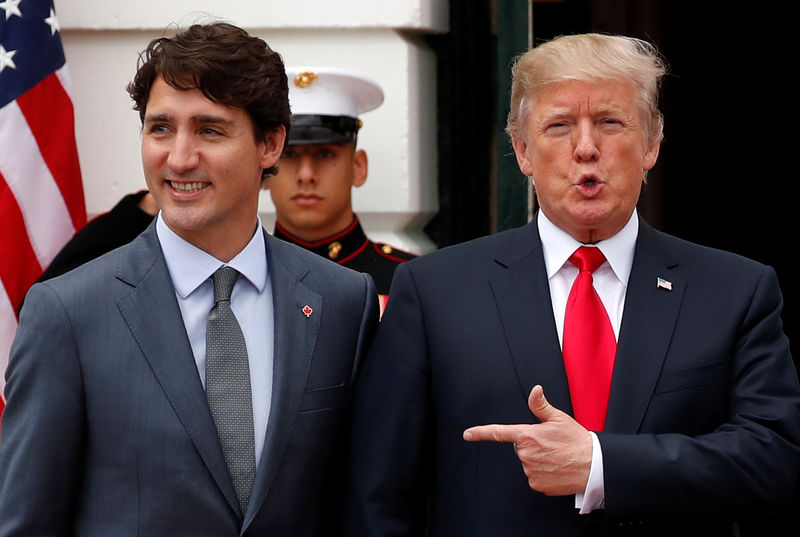 © Reuters. Top 5 things to know today in financial markets
Investing.com – Here are the top five things you need to know in financial markets on Wednesday, September 5:
1. U.S.-Canada Trade Talks Resume
Trade talks between the United States and Canada aimed at revamping the North American Free Trade Agreement (NAFTA) will today after the two sides ended tense negotiations last week without a deal.
The Trump administration wants to scrap a dispute-resolution mechanism that Canadian Prime Minister Justin Trudeau says is crucial. The two sides are also arguing over U.S. demands for more access to Canada's closed dairy market.
The neighbors emerged from talks last Friday, the White House's deadline for Canada to join in on a deal the U.S. struck with Mexico late last month, without resolving sticking points.
Meanwhile, investors continued to monitor the threat of fresh U.S. tariffs on another $200 billion worth of Chinese goods, which could come as soon as a public comment period ends on Thursday.
2. U.S. Stocks Futures Point to Lower Open
U.S. stock index futures pointed to a on Wall Street, as continuing trade tensions and spreading worries about emerging market currencies cut investor appetite for risky assets.
At 5:30AM ET, the blue-chip were down 110 points, or 0.4%, the dropped 10 points, or 0.4%, while the tech-heavy indicated a decline of 35 points, or roughly 0.5%.
Elsewhere, in Europe, nearly all of the region's major bourses were in mid-morning hours, with most sectors in the red.
Among national indexes, Germany's export-heavy lost 0.9%, while France's gave up 1.2%. The UK's shed 0.5%.
Earlier, in Asia, markets in the region ended .
The slumped 1.7% to 2,704, edging back at the two-and-a-half-year low of 2,653 set last month.
3. Dollar Gains as Emerging Market FX Pain Continues
Away from equities, the dollar was trading against a currency basket, as demand for the greenback continued to be underpinned by persistent concerns over emerging market stresses.
The , which measures the greenback's strength against a basket of six major currencies, was a shade higher at 95.50, not far from Tuesday's one-and-a-half week highs of 95.68.
In emerging markets, currencies such as the , , , , and were all lower.
Emerging market currencies have been hard hit by concerns that higher U.S. interest rates will pressure countries that have borrowed heavily in dollars in recent years.
4. Oil Prices Tumble as Storm Threat Eases
In commodities, oil prices as a tropical storm hitting the U.S. Gulf coast weakened and had a lower impact on production than initially expected.
futures were at $69.17 per barrel, down 70 cents, or 1%, from their last settlement.
International futures fell 51 cents, or 0.7%, to $77.66 a barrel.
Prices had jumped the previous day as dozens of U.S. oil and gas platforms in the Gulf of Mexico were shut in anticipation of damage from tropical storm Gordon.
However, the storm had shifted eastward by Wednesday morning and was , reducing its threat to producers on the western side of the Gulf.
5. Big Tech to Testify Before U.S. Congress
Top Twitter (NYSE:) and Facebook (NASDAQ:) executives will defend their companies before U.S. lawmakers this morning, with Facebook insisting it takes election interference seriously and Twitter denying its operations are influenced by politics.
Facebook Chief Operating Officer Sheryl Sandberg, appearing alongside Twitter Chief Executive Jack Dorsey, will say that her company's efforts to combat foreign influence efforts have improved since the 2016 U.S. election, according to written testimony released on Tuesday.
But no executive from Alphabet (NASDAQ:)'s Google is expected to testify, after the company declined the Senate Intelligence Committee's request to send one of its most senior executives, frustrating lawmakers.
Google offered to send its chief legal officer, Kent Walker, to Wednesday's hearing, but he was rejected by the committee, which said it wanted to hear from corporate decision-makers.
The will begin at 9:30AM ET.
Technology executives have repeatedly testified in Congress over the past year, on the defensive over political influence activity on their sites as well as concerns over user privacy.