Top 5 Things to Know in the Market on Wednesday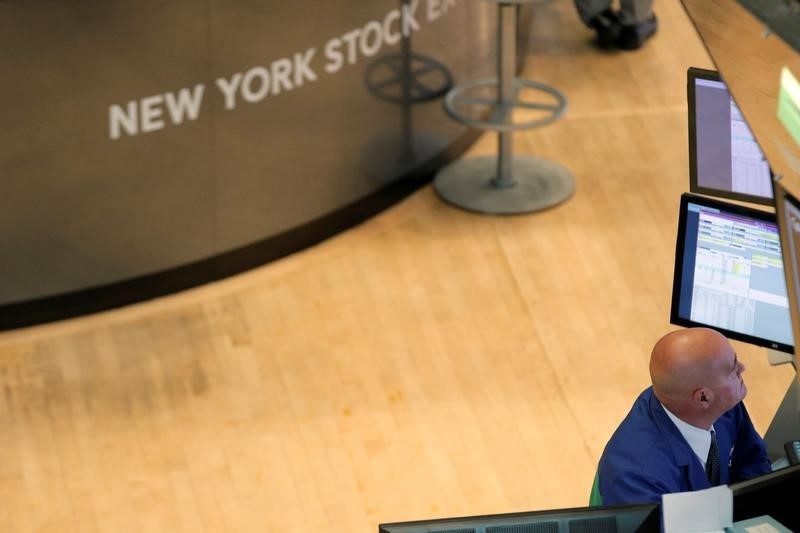 © Reuters. 5 key factors for the markets on Wednesday
Investing.com – Here are the top five things you need to know in financial markets on Wednesday, November 22:
1. S&P eyes 2,600 ahead of holiday break
U.S. futures pointed to day of muted trade on Wednesday as investors geared up for the Thanksgiving holiday. Trade was expected to be traditionally thin with Wall Street closed on Thursday and closing early at 1:00PM ET (18:00GMT) on Friday. At 6:01AM ET (11:01GMT), the blue-chip gained 28 points, or 0.12%, inched up 1 point, or 0.03%, while the slipped 1 point, or 0.02%.
The slight gains suggested that the could once again , having briefly broke the psychological level on Tuesday only to pare gains and close less than a point below. All three major U.S. benchmarks recorded .
That bullish finish translated to yet another on Wednesday, propelled higher by a bullish growth and outlook, as well as investors' unflagging enthusiasm for technology stocks.
on Wednesday though Germany's remained under pressure from doubts over Chancellor Angela Merkel's next move to form a government in the motor of the euro zone economy.
Earlier, with Hong Kong's breaking above 30,000 points for the first time in 10 years.
2. Oil surges to 2 ½ year high ahead of data dump
, with the U.S. benchmark surging to its best level since July 2015 amid speculation weekly supply data due later in the day will show a large drop in U.S. crude inventories.
After markets closed Tuesday, the American Petroleum Institute said that U.S. oil inventories fell by last week. That compared with analysts' expectations for a decline of around 2.1 million barrels.
The U.S. Energy Information Administration will release its official at 10:30AM ET (15:30GMT) amid expectations for a draw of around 1.5 million barrels.
Also on the docket due to the shortened holiday week, market participants will also keep an eye on U.S. shale production when Baker Hughes releases its most recent at 1:00PM ET (18:00GMT).
Outside of the data, news of that dented Canadian deliveries to the United States along with continued hopes for a at the upcoming November 30 OPEC meeting also buoyed bullish sentiment in black gold.
Specifically, gained 1.97% to $57.95 at 6:02AM ET (11:02GMT), while traded up 1.13% to $63.28.
3. Eyes on Fed minutes as Yellen admits uncertainty over inflation
The Federal Reserve will release of its most recent policy meeting on Wednesday at 2:00PM ET (1900GMT). The U.S. central bank left interest rates unchanged following its meeting on November 1 and signaled it still intended to raise rates in December, as officials noted "solid" economic growth and a tightening labor market.
The Fed is scheduled to hold its of the year on Dec. 12-13, with interest rate futures pricing in a 100% chance of a to the 1.25% to 1.50% range, according to Investing.com's .
After the market close Tuesday, Fed chair reiterated that the U.S. central bank should continue to gradually raise interest rates to keep both inflation and unemployment from drifting too low.
However, as Yellen predicted inflation to rebound over the next year or two she admitted that she was ". My colleagues and I are not certain that it is transitory, and we are monitoring inflation very closely."
4. Durable goods to take the stage
Among the data released on Wednesday, the focus will likely be on October durable goods orders out at 8:30AM ET (13:30GMT) with expectations for a deceleration that nevertheless maintains underlying strength. The consensus forecast is that the report will show orders for durable goods inched up last month, following a jump of 2.0% in September.
Core orders are forecast to rise , after gaining 0.7% a month earlier.
Besides the durable goods report, and revised for November will also be on tap.
5. UK presents budget amid Brexit negotiations
British finance minister Philip Hammond is scheduled to present the to parliament at 7:30AM ET (13:30GMT) Wednesday as the country continues its negotiations for the departure from the EU.
The budget is being presented during uncertain times as the UK seeks to push Brexit negotiations forward and begin talks on .
Hammond is thought to have little room for the kind of bold budget moves that many in his Conservative Party are demanding to help households after years of cuts in public spending.
Instead, he is widely expected to and tread carefully with measures to speed up house-building and improve Britain's weak productivity.