Top 5 Things to Know in the Market on Wednesday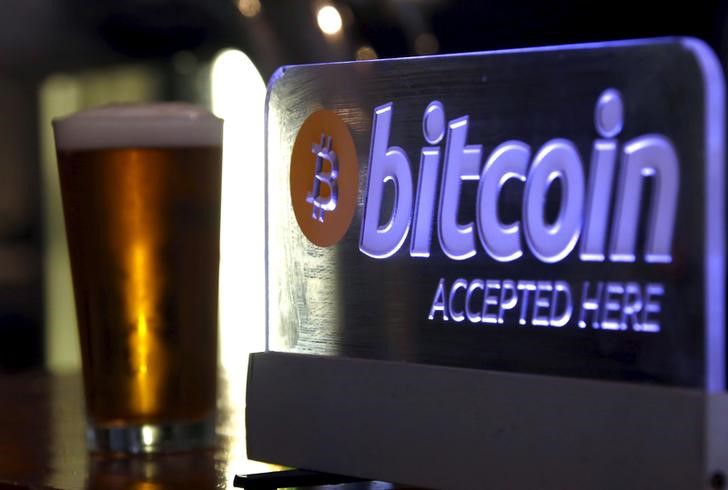 © Reuters. 5 key factors for the markets on Wednesday
Investing.com – Here are the top five things you need to know in financial markets on Wednesday, November 29:
1. Bitcoin smashes through $10,000, up more than $2,000 in just 4 days
, breaking the symbolic $10,000 threshold overnight after rising more than $2,000 in just four days.
Among the , Bitcoin has led the debate as hardcore fans insist that the cryptocurrency has nowhere to go but up, with the upcoming paving the way for institutional investors to get into the game.
However, detractors warn that its 1,000% rise this year to a market cap of more than $180 billion, topping blue-chip firms the likes of McDonald's (NYSE:), IBM (NYSE:), or GE (NYSE:) is evidence of a bubble just waiting to pop.
Pension Partners crunched the numbers and if bitcoin was to repeat this year's stellar percentage gain in 2018, it would top a $1.5 trillion market cap, more than the value of any company in the world.
On the U.S.-based Bitfinex exchange, was at $10,807.0, up $909.0 or 9.18%, by 6:10AM ET (11:10GMT) Wednesday, after rising as high as $10,884.0 earlier.
2. Dollar holds ground with tax reform and North Korea under watch
The dollar show choppy trade around the unchanged mark against major rivals on Wednesday as traders watched developments surrounding U.S. tax reform and maintained a cautious stance as tensions with North Korea resurge.
The prospects for a U.S. tax cut seemed to improve after Senate Republicans in a partisan committee vote that set up a full vote by the Senate as soon as Thursday.
However, details of the measure remained unsettled and Republican leaders conceded that they have yet to round up the votes needed for passage in the Senate, where they hold a narrow 52-48 majority.
Meanwhile, tensions resurged after North Korea said it had that it claimed was capable of reaching the U.S. mainland.
The launch, Pyongyang's first since Sept. 15, came after the U.S. classified North Korea as a country that supported terrorism on Nov. 20.
In response to the launch, U.S. President Donald Trump said, "It is a situation that we will handle."
At 6:11AM ET (11:11GMT), the , which measures the greenback's strength against a trade-weighted basket of six major currencies, turned the tables on and inched up 0.01% at 93.21.
3. U.S. set for 2nd look at growth as Yellen steps up to the plate
Also on tap for the greenback, the focal point in Wednesday's economic data will be the second estimate of GDP growth for the third quarter released at 8:30AM ET (13:30GMT) on Wednesday, expected to show an upward revision .
Later on the agenda, October will be out at 10:00AM ET (16:00GMT), while the Fed's will be released at 2:00PM ET (19:00GMT).
Furthermore, markets will pay close attention to outgoing Fed chair on the economy on Wednesday at 10:00AM ET (15:00GMT) before the U.S. Congress's Joint Economic Committee on Capitol Hill.
In candid remarks last week, Yellen stuck by her prediction that U.S. inflation will soon rebound, but said she is "very uncertain" about this and is open to the possibility that prices could remain low for years to come.
4. Pound boosted by Brexit bill reports
The pound traded higher against both the and the on Wednesday amid signs that Britain and the European Union are .
According to reports, both parties have for the amount the UK will pay the EU as part of its departure from the economic bloc. In principle, Britain has agreed to assume liabilities of as much as €100 billion (£87 billion; $119 billion), although the net payment could be much less and will be spread out over time.
Although discussions over the Irish border remain unresolved, the divorce bill was one of the major obstacles placed by the EU before moving on with future trade negotiations.
5. Oil falls with eyes on inventories, OPEC meeting
on Wednesday amid speculation weekly supply data due later in the day will show a surprise increase in U.S. crude inventories.
After markets closed Tuesday, the American Petroleum Institute said that U.S. oil inventories last week. That compared with analysts' expectations for a decline of around 3.1 million barrels.
The U.S. Energy Information Administration will release its official for the week ended Nov. 24 at 10:30AM ET (15:30GMT) Wednesday.
Market participants were also cautious ahead of the meeting of oil ministers from the Organization of Petroleum Exporting Countries and other major producing countries in Vienna to decide whether to extend their current production agreement beyond a March 2018 deadline.
Most market analysts expect the oil cartel to until the end of next year, but the terms were so far unclear, as about whether it will back the move.
At 6:12AM ET (11:12GMT), fell 0.79% to $57.53, while traded down 1.01% to $62.60.