World shares under tech cloud, no lift from Japan's dovish policy pledge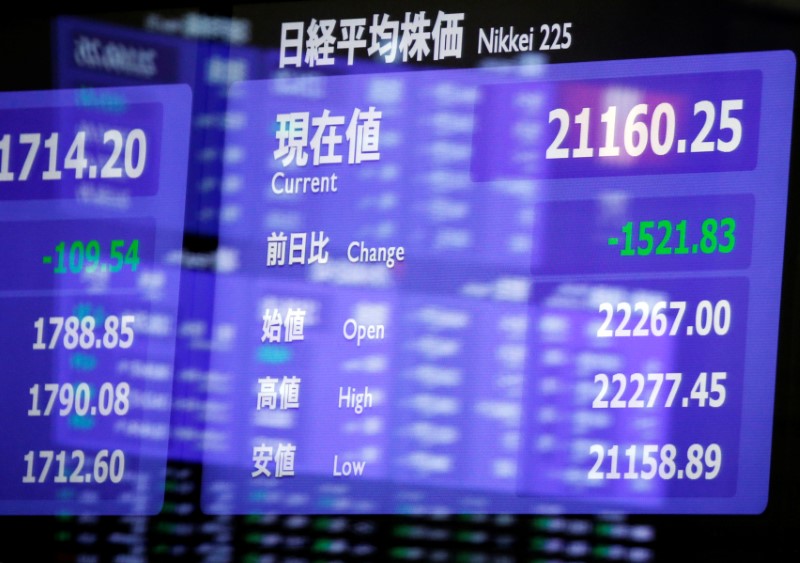 © Reuters. Electronic board showing the Nikkei share average is seen as market prices are reflected in a glass window at the TSE in Tokyo
By Sujata Rao
LONDON (Reuters) – Reassurance by the Bank of Japan that it will keep its super-easy monetary policies in place for an extended period pushed the yen and global bond yields lower on Tuesday, though mounting concerns about the tech sector kept world stocks under pressure.
A recent Reuters report that the BOJ could be debating scaling back its massive stimulus program had sent Japanese bond yields to 1-1/2 year highs, spilling into euro zone and U.S. debt markets. That helped push the yen more than 2 percent off six-month lows hit against the dollar in early July.
But while the BOJ announced some tweaks to its equity purchase program and said its stimulus plan would be more flexible, the changes did not show any inclination for radical shifts from its accommodative stance.
In response, yields on 10-year Japanese government bonds
"The BOJ is important in the sense of what they didn't do," said Andrew Milligan, head of global strategy at Aberdeen Standard Investments in Edinburgh.
"It was disappointing for some investors who thought they would be more hawkish in their approach and the market reaction, with lower yen and bond yields, shows that view which many people held, is mistaken."
Euro zone yields later inched up to trade around flat after data showed inflation above forecast, though this was driven by higher energy costs. Separate data revealed the bloc's economic growth had been slower than expected in the second quarter of 2018.
The yen fell 0.4 percent to trade around 111.2 yen per dollar. Many analysts now see it easing to around 113, especially if the U.S. Federal Reserve delivers a hawkish interest rate message when its policy meeting ends on Wednesday.
(For a graphic on 'Yen, bond yields fall after dovish BOJ pledge' click https://reut.rs/2KethlI)
The dollar was flat against a basket of currencies but looks likely to snap a three-month streak of gains as markets have more or less priced in two more Fed rate hikes this year. The greenback had rallied more than 5 percent in the second 2018 quarter.
The BOJ's dovish pledge failed to offer a boost to equities, however. Markets have been roiled by growing concerns about the global tech sector which had seemed relatively immune to trade tensions between the United States, Europe and China.
Lackluster earnings from Netflix (NASDAQ:) and Facebook (NASDAQ:) have triggered losses across the tech sector, with Wall Street's tech index shedding 6 percent in the past three sessions.
(For a graphic on 'FAANGs losing bite?' click https://reut.rs/2KeglfE)
That pushed world stocks to one-week lows and even Japan's failed to hold on to earlier BOJ-fuelled gains. MSCI's index of Asia-Pacific tech shares fell almost one percent.
European tech followed suit, losing 0.6 percent and lagging broader equities that were flat on the day.
Wall Street was set for a modestly firmer open, futures signaled as investors await second quarter earnings from the biggest company, iPhone maker Apple (NASDAQ:).
But the tech retreat has overshadowed an otherwise buoyant U.S. earnings season, with average 22.6 percent profit growth and 83 percent of companies beating consensus estimates so far.
Milligan attributed the setback to a re-assessment of share prices and summer profit-taking rather than a fundamental loss of confidence in the sector. World stocks are still set to end July with the best monthly returns since January, he noted.
World stocks set for best month since Jan https://reut.rs/2K7PvFV
"The market is saying 'you are fairly valued around these prices so let's wait for the next big story'. That will either be on the downside with trade tensions in autumn or it could positive if Chinese stimulus turns out to be greater than expected," Milligan added.
He was referring to Beijing's announcements, offering more fiscal stimulus to counter the effect of U.S. trade tariffs and incentives for banks to lend to small business.
Markets now await Wednesday's Fed policy statement to see if the expected two rate hikes for the remainder of 2018 can be cemented in. In Britain, a 25 basis-point hike is now widely expected on Thursday, despite economic weakness linked to Britain's looming European Union exit.
The British pound has already priced the move, David Riley, chief investment strategist at BlueBay Asset Management, said, adding: "I think they will do it but it will be one and done."
The pound firmed 0.2 percent to around $1.3159, having drifted off 10-month troughs of $1.2955 touched earlier in July.